If like me you've had a rather hectic summer or aren't quite ready for knit wear, then a dose of September sunshine is just what you need. Having based myself in Portugal for well over a year now, and yes call me biased, but the glorious home of custard tarts and silly Ronaldo haircuts is just the place to go; beaches and towns are quieter in September, the temperatures in the south are in their late 20s, restaurants and bars are still in full swing and the Country's notable wine producers go in to harvest for September and October (very key decision maker).
I could wax lyrical all day long about how much I adore Portugal but I'll spare you the laborious read and suggest a few of my favourite September getaways.
Areias do Seixo, Santa Cruz
This hotel is total tranquility. Only an hour north from Lisbon this eco friendly foodie haven is just about one of the best hotels I've ever stayed at. In terms of style of the property think suspended fireplaces, large sea-facing terraces, herb gardens and eclectic art pieces. You feel slightly like an extra in a Boden catalogue as you board the hotel's VW campervan down to Noah – its ever so cool and trendy surf shack, that's if you fancy leaving the hotel for a jaunt. If you don't, and who can blame you, there is so much to do within eco mecca – a notable experience being the Garden and Cookery experience where you are taken by the gardener to learn alongside picking your fruit, veg and herbs for lunch. Then it's back to the kitchen for a cookery class with the chef. I'm hesitant to say too much as much of the allure of this place is the ambiguity.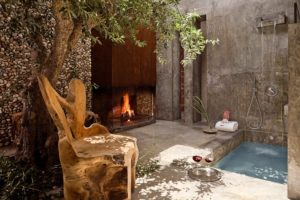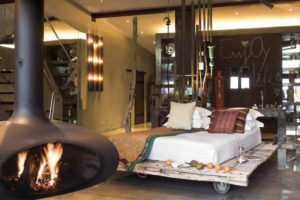 Villa Monte Farm House, The Algarve
Long affiliated with cheap booze and football shirt wearing hooligans, the Algarve is perfect for any break, and with some gorgeous boutique hotels there isn't a shadow of doubt that it has sophistication as a destination. Villa Monte is no exception to this – think boho chic farm house. The white washed walls aligned by orange trees and rich pink bougainvillea host a handful of lovely simply decorated rooms and suites. Food is local with fish being caught in nearby Olhao and bread freshly baked. Classic films are played each night which goes down very well with a glass of Portuguese red. Here's one place that is cosy and fire lit in the winter and sun soaked in the summer, where you can opt to cycle to the beach or lounge by either of the two swimming pools.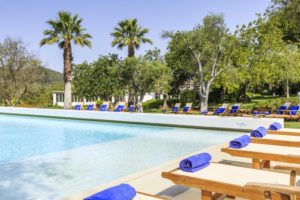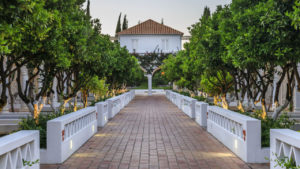 Malhadinha Nova, Alentejo
Here's one place I have enjoyed watching its success from being slightly unknown to featuring in every in the know travel publication, and for good reason. Rooms are bright and elegant in the quintessential Portuguese homestead and with just 10 rooms the place is never crowded. As its harvest season in September and Malhadinha boasts quite the wine collection this option comes highly recommended. Plus who doesn't want to stomp around on grapes? Fine wine needs to be accompanied by fine food and Malhadinha Nova rear cattle and grow their own produce so the quality is quite something.
For a spot of R&R you can enjoy the spa, their gorgeous free flowing infinity pool, horse riding, leisurely walks around the estate and yoga classes. I feel totally at home here and that's down to the superb hospitality of Bruno and his team.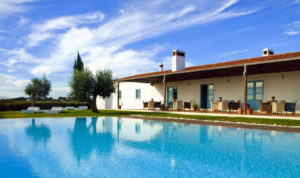 Six Senses Douro Valley, Douro Valley
Like any Six Senses property this luxurious eco friendly estate is pure hedonism. Everything from the spa to the in-room bathroom products are totally pure and organic and whilst it's a shame you can't take home such lovely bathroom goodies, I applaud their efforts to avoid single use plastic and keep green. I'm bound to love a hotel that has it's own charcuterie and cheese room at breakfast, a long side everything you'd expect from a hotel that promotes a healthy lifestyle- fresh juices, herbal teas, homemade granola and so the list goes on. Their farm to table food concept is not a foreign concept at boutique hotels nowadays but here they make full use of the produce from their gardens and their olive oil is out of this world. The Douro Valley is on many a tourist trail because of its famed wine producing, and the Six Sense bar really is the place to do wine tasting with world class sommeliers and breath taking river views.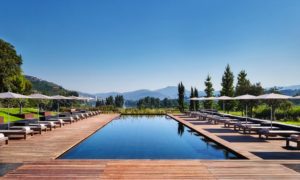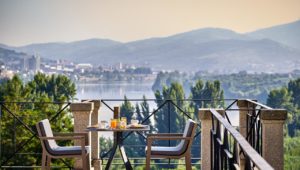 Sublime Comporta, Alentejo
Comporta is the sort of place you feel you need a guest pass to access, having had Portugal's elite frequent it's beautiful shores each summer, you soon learn why it might just be Portugal's best kept secret. By no means do I mean this is a flashy area of the Alentejo coast, yet it's the un-spoilt beaches, vineyards and hard to beat local restaurants that make it so alluring. With little to no hotels in the area Sublime Comporta is everything the name suggests. The design is simple, a handful of minimalist cabanas, which I assure you are nothing short of luxury and with an instagramable pool and social firepit for the cooler cosy evenings, what more could you want?

São Lourenço do Barrocal, Alentejo
A relative new comer to the Portuguese boutique hotel scene – São Lourenço do Barrocal estate has been in the same family for some 200 years, and Jose Antonio Uva has loving restored the place to be the next place on all travel aficionados wish list. As a foodie I LOVE their farm to fork restaurant Hortelao, which sits within their vegetable garden and what better way to enjoy a late summer evenings then delicious food accompanied by jazz music. If that doesn't appeal perhaps a picnic in the countryside would? Or a holistic yoga retreat? Also being the Alentejo, another top Portuguese wine producing hub – September and October are perfect time to be here.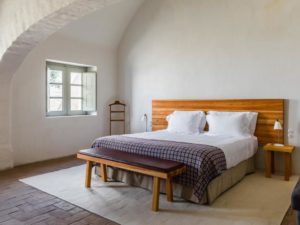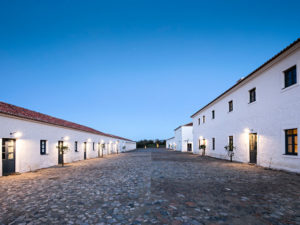 The Conrad, The Algarve
Whilst this particular choice doesn't fall in to the boutique hotel category it makes the cut because the hotel is simply first class. There is a reason the spa has won several awards; the experienced therapists will go above and beyond to look after you and they use aromatherapy associates, which say no more and book me in! And it's not just the Spa that has won awards – Gusto by Heinz Beck has it's own accolades where award winning Nelson de Matos will mix up quite the cocktail. Yoga with Lulu, perhaps not the night after Nelson's concoctions, is a must for anyone visiting, followed by a dip in any of the eye popping swimming pools. September again is ideal in the Algarve weather wise and the Conrad also have a shuttle to the beach. General manager Katharina and her team really look after you and that is something that I often find is somewhat lost in larger hotels.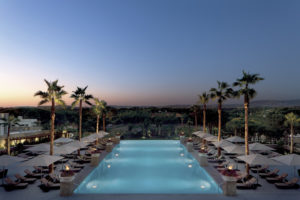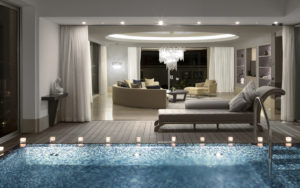 If you'd like to book any of these for a last minute September getaway please get in touch: [email protected]