There is life after lockdown!
Especially in the Mediterranean, well Portugal to be more precise. The Portuguese are well and truly geared up to receive the tourism they so heavily rely on.
I've always thought of Portugal as that undiscovered restaurant that you are hesitant to share with others incase it balloons in popularity. Personal feelings aside, my Portuguese counterparts are eager to show how impressive their Country truly is.
Lately, it seems there is an air of nervousness about travelling anywhere, which has not been aided by British media and travel regulations. Portugal as always are waiting with (socially distanced) open arms for holiday makers. So to perhaps tempt you, here are some reasons to visit:
My dad always used to make a joke about the Dalai Lama ordering a pizza and it being one with everything. I feel the same about Portugal being a multi faceted holiday destination; you have a jaw dropping coastline as well as plenty of fly and flop beaches, bustling markets, vineyards galore, buzzing cities, UNESCO world heritage sites, culture, national parks, mountains, countryside, variety of cuisine, lakes, rivers and much much more.
PASTEIS DE NATA
Portuguese custard tarts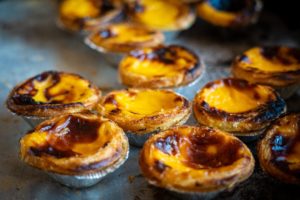 Portuguese happiness in its purest form. Sometimes I will amend a route just so I can head to Pasteis de Belem, where the recipe originated in 1837, brought, some say, through a secret underground corridor by monks in the kitchen of the magnificent, neighbouring Monastery of Jeronimos.
PRAIAS
Beaches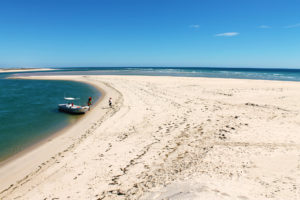 Having travelled a fair bit with my job over the years, I'm hard pushed to find beaches I adore more than in Portugal, from the east of the Algarve where you'll find gentle seas and remote little islands to the more rugged landscapes of the West. If you travel north up the coast past beaches such as Odeceixe, a turquoise swirl of river running through it, you'll reach the undisturbed white sands of Comporta and Costa de Caparica, where horse riding is encouraged and great beachside restaurants are plentiful. For surfers however, you'll be wanting to head north of Lisbon to places like Santa Cruz and Nazare – where an impressive coastline frames local towns.
LUXO BARATO
Affordable Luxury

Portugal as well as being authentic and relatively untouristed, has a cheaper price tag than other European countries, and whilst it may not have the finesse of say Italy or Greece, they more than compensate for their shortfalls through culture and charm. You will be hard pressed to find many Starbucks or big chain restaurants. Luxury hotels are sensibly priced with many off the beaten track gems being an absolute steal – even in the summer months! This goes for the food and wine too, and I'm talking about the Michelin star suspects.
CULTURA
Culture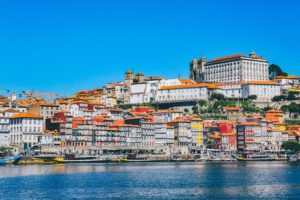 ~ Find a fado bar order a glass of port or bica pingado (aforementioned strong coffee) and listen, along with locals, to a singer performing traditional songs.
~ Explore the beauty that lies within their many churches and monasteries from the whitewashed churches of the south to Sao Francisco in Porto, where more than 450lb of gold encrusts the interior. Porto
~ Admire picture-perfect tiles or azulejos as the locals call them, which seem to flood many an instagram feed of any visitor to the country. In the south the colours are more warm reds, blue and white throughout the country and yellows, greens and blues in the Alentejo countryside region.
~ ARTisans, they live off the land and use materials such as cork to make anything from furniture to jewellery.
~ Cities; Porto is brimming with soul, old-world charm and gorgeous architecture (JK Rowling spent some time here sponging up some inspiration). Lisbon with its yellow trams, steep hills and buzzing nightlife. As well as lesser known cities such as Coimbra, which is bursting with culture and great eateries!
~ Festivals, Portuguese love a party! They are also a very proud country, and even last year for Dia do Portugal in June, they still lined the streets with bright decorations and feasting stands.
~ Football, their life blood. It's a slim chance to find a public establishment that does not have a TV on showing football.
VINHO
Wine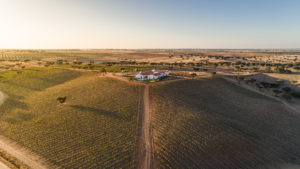 The wine is unapologetically fabulous. Anyone who has been to Portugal knows (or will soon learn) about the wonder of the Portuguese grape. With a good year-round climate and the influence of the Atlantic, the country is known to produce some of the best wines on the planet, and with them keeping a lot of its produce to themselves (unlike many others), you can be guaranteed its extensive quality and affordability. Each region of Portugal has its own distinct climate; the cooler temperatures and Atlantic breeze make the far north of Portugal (north of Porto/Braga region) ideal for producing the very popular 'Vinho Verde', whereas the daytime heat and cool nighttime temperatures in the middle of the countryside, as you head further south into the Alentejo region, are perfect for ripening the grapes for a beautifully smooth red (otherwise known as 'Vinho Tinto').
COMIDA
Food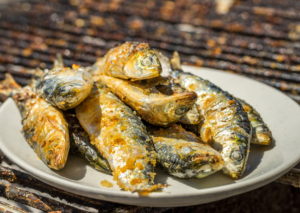 Much like the wines, Portuguese olive oil is one of the country's best-kept secrets, but once tasted it is never forgotten. I love some freshly baked pão caseiro with oil, a staple at most restaurants throughout the country, and if it's on the menu order some Serra da Estrela cheese.
The Portuguese food scene has often been overlooked, however the country's young chefs are bringing delicious twists to traditional dishes like cod and grilled sardines infused with locally foraged herbs and spices. A handful of the most successful big names such as Rui Paula and Jose Avillez have set the bar high for the others. Notable spots include Rui Paula's DOP in Porto and DOC which sits on the River Douro. Belcanto and Cantinho do Avillez, all owned by Jose Avillez should be on your list of places to try in Lisbon.
When in the Algarve many like to flock to notorious beach spots such as Maria's and 2Passos for their fresh fish and chilled rose, be sure to book however, especially in the summer!
As a bonafide foodie I tend to veer off the tourist path to local places with daily changing menus and opportunities to practice my broken Portuguese. My clients will always be given a full list of my regional favourites to dine at and dishes (for example the Francesinha in Porto – essentially a croque monsieur on steroids).
DORMIR
Sleep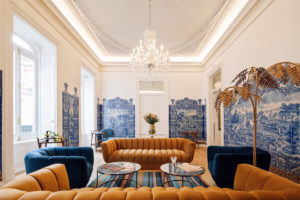 An activity I'm not entirely convinced the Portuguese do (which may have something to do with their Schwarzenegger strength coffee), yet their country is full of enticing places to lay your head at night. The hotel scene in the 90s was either rustic bed and breakfasts or big hotel chains, now we've seen a rise in unique boutiques.
I don't shy away from bigger hotel groups; in fact there is the gorgeous Six Senses in the Douro Valley that is much like others in the group, spa centric and a real hub of wellbeing. The location lends itself perfectly to the nature of the brand and it's top of my list for some high end R&R in Portugal.
Most recently I've discovered boutique hotel Pálacio Príncipe Real in Lisbon, a city in need of what Gail and Miles (the owners) have brought to it. It has all the bells and whistles of a five star hotel yet without the stuffiness, the ethos here is enjoy the place as if it were your own. The interiors are timeless and classy, no corners have been cut here – your bedroom even comes with a SMEG fridge filled with little treats. Plus any hotel with freestanding bathtubs in their rooms wins my vote.
Outside the cities you have places like their countryside and wine region Alentejo, which is populated with relatively unheard of boutique hotels such as a firm favourite of mine – Herdade Malhadinha Nova. Owned and run by the Soares wine family you essentially feel like one of their amigos when you go to stay. A few of their bottles have labels designed by their grandchildren, which like the rest of the estate gives a real personal experience.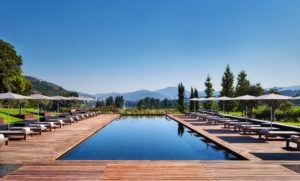 If you were to do a road trip, which I thoroughly recommend you could twin the above mentioned with a visit to Fazenda Nova Country House in the Algarve. Another, best kept secret, type place. The owner's taste can be seen in the architecture of the former farmhouse, eclectic artwork and vinyl library. Another great find in the area is family friendly Vilamonte Farmhouse. You are also in close proximity to the gorgeous fishing town of Olhão where you wander the cobbled streets in the evening and get speed boats over to deserted islands during the day.
I could wax lyrical all day long about the accommodation in Portugal, or just the country in general, so please do get in touch with me if you want to know more.
Alas there you have it, Portugal, plan your travel now to experience it in all its glory.
We remain in complete support of taking Portugal off the UK's red travel list. If you would like to read a much more accurate account of the situation over there, please read this article. The was written by top travel journalist Mary Lussiana who lives in the country.